Need help? Call 01257 255701 for more information
KD Idigbo
Idigbo (also known as African teak or Core veneer) is a type of hardwood tree that is native to tropical West Africa. It belongs to the Meliaceae family and its scientific name is Terminalia ivorensis. The tree can grow up to 60 metres tall, with a trunk diameter of up to 2 metres, and has a straight bole that is clear of branches for up to 30 metres. The wood is pale yellow or light brown in colour, with a fine and even texture.
Idigbo is a popular choice for construction, joinery, and furniture making due to its strength, durability, and workability. It is also used for boatbuilding and flooring. The wood is easy to work with both hand and machine tools, and can be glued, nailed, screwed, and finished with ease. It is also resistant to decay and insect attack, which makes it ideal for outdoor applications.
Idigbo is a sustainable timber source, with forests being managed for selective harvesting to ensure future growth. The wood is also readily available and affordable, which makes it a popular choice for both commercial and domestic applications.
The high acid content can react with finishes and cause corrosion in contact with metal, and it Idigbo can be resistant to finishes and preservative treatments.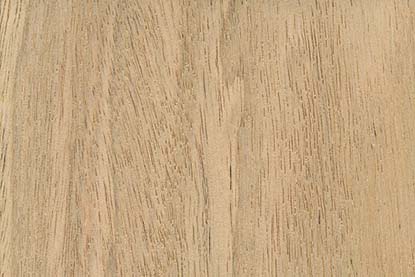 Category
Hardwoods / African Far Eastern Hardwoods
Botanitcal Name
Terminalia Ivorensis
Origin
African
Uses
Furniture making, high class joinery, interior and exterior carpentry, joinery and construction
Density
560 kg/m3 *Density can vary 20% or more*
Colour
Pale Yellow / Brown, sometimes pinkish cast
Grain
Straight to slightly irregular
Texture
Medium to fairly coarse
Sizes
26mm x 100mm + Wdr
32mm x 100mm + Wdr
40mm x 100mm + Wdr
52mm x 100mm + Wdr
65mm x 100mm + Wdr
80mm x 100mm + Wdr
102mm x 100mm + Wdr
Tell us how you'd like your KD Idigbo to be machined as well as the desired thickness, width and length and we'll use the state of the art machinery found in our mill to cut it to suit your specifications.
Call us on 01257 255701
or email sales@ramsaytimber.co.uk
for more information.